Global Employee Vol.1
D.
Y.
(from Belgium)
Tokyo office, General Affairs Department, Corporate Development
Towards a carbon neutral society: wood, a human- and environmentally friendly material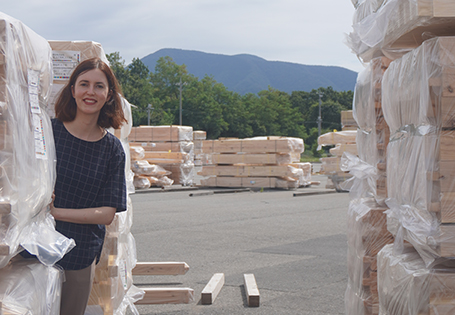 After graduating from university in Belgium, I started my career in the construction industry. This made me interested in sustainable construction materials, with wood being the most sustainable and environmentally friendly material of all.
Since I had studied Japanese at University, I wanted to experience working in Japan. I found a sustainable company in the same field: First Wood.
Japanese classes, new business development
Japanese language classes are provided to improve Japanese at a business level. As Japanese is the main language in the company, you can put what you learned to practice every day and even master technical terms. I am currently researching the overseas timber market and I will be actively involved in new business development, marketing and SDG's initiatives.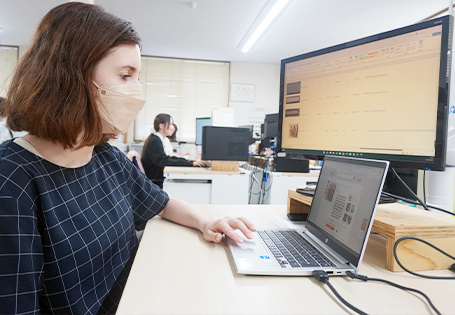 Circularity and sustainability as a management strategy
First Wood aspires to be a sustainable company: while producing wooden construction material we find ways to use our waste products, so everything of the tree is put to good use. For example: wood chips are used as a raw material for paper, wood scraps are upcycled to building material and sawdust is turned into a biobased energy source.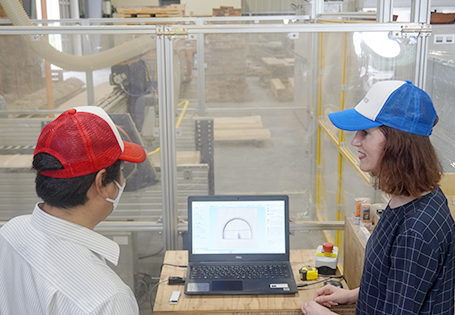 Focus on globalization and environmental conservation for the future
With Japan's aging society and dropping birth rate, First Wood is actively hiring foreign employees to stimulate globalization. In order to preserve the environment, we promote small-scale forestry, cutting trees with light machinery that has a low impact on the forest. Our mission is to protect Japan's rich forest resources, this way we are able to pass them on to future generations.